Window Tinting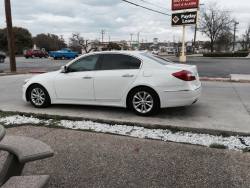 Are you looking for an easy way to make your car more attractive and more comfortable? Window tinting from Soundmaster Tint & Alarm is the answer. Serving drivers in the San Antonio area and beyond, our window tint pros are here to ensure that your vehicle looks great and protects you from the sun's harmful UV rays. There's no use suffering through a hot, sticky summer when one call to our mobile window tinting team can ensure you get a cool, comfortable ride. If you're looking for flawless car window tinting, then look no further. Call Soundmaster Tint & Alarm today to schedule auto window tinting for your vehicle!
When you call on Soundmaster Tint & Alarm for window tinting, you can look forward to getting professionally tinted car windows that will provide you with a number of great benefits, including:
Enhanced vehicle privacy
Increased temperature control
Protection from UV rays
Prevention of interior sun damage
And much more!
With help from our auto glass tinting professionals, you won't have to worry about burning your skin on a hot car seat or passers-by being able to look at your personal belonging stored in your vehicle. Our window tint technicians will work hard to ensure that your car, truck, or SUV is properly protected with superior window films. We can install SunTek window films as well as window film from any other manufacturer. Just let us know what your car window tinting needs are, and we'll use our knowledge and expertise to meet them.
Lifetime Warranties on Window Tinting
At Soundmaster Tint & Alarm, we believe in auto window tinting that lasts. When you hire us to tint windows on your vehicle, you can rest assured that we'll take the time to do the job right the first time. If, however, there's ever any problem with your car window tint, we offer a lifetime warranty on all window tinting. That means we'll always be on hand to solve the problem and ensure that your auto tinting both looks great and functions properly. We have more than two decades of experience tinting car windows, and that means we know what it takes to produce a beautiful, durable finished product. Our professionals are also fully insured for your peace of mind, so there's nothing to lose when you turn to us for automotive window tinting.
Call or e-mail Soundmaster Tint & Alarm right away to learn more about your options for auto window tinting in San Antonio! 
Automotive window tinting
Tinting windows
Car window tint
Window films