Remote Car Starters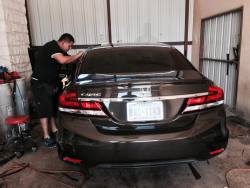 Are you tired of shivering while sitting in your vehicle waiting for the engine to warm up in winter? Have you had enough of the sweltering summer heat beating down on you during the summer while you wait for your vehicle to cool off? The good news is that there's an easy fix for both of these problems: a remote car starter from Soundmaster Tint & Alarm. A remote starter is the perfect tool for alleviating the discomfort of extreme temperatures in your vehicle year-round. If you live in or near San Antonio and need help regulating the temperature in your vehicle, our team is here to help with a brand-new car starter. Just pick up the phone today and call us to learn more about your automatic car starter options, including car starters with keyless entry! 
A remote car starter is the right choice if you're looking for the ultimate in comfort and convenience. The car starters our fully insured technicians install will allow you to turn on your vehicle before you ever set foot in it. Simply press a button and turn on your engine before you leave your home, office, or even the grocery store, and your car will be at the perfect temperature when you're ready to depart. With remote car starters from Soundmaster Tint & Alarm, you can save lots of time and eliminate discomfort altogether.
Did you know that an automatic car starter from Soundmaster Tint & Alarm can do more than just offer you comfort and convenience? It can also help you to save money by reducing the need for maintenance on your vehicle. By using the car starter to warm up your engine before you hit the road, you'll be cutting down on wear and tear. Over time, this can mean more of your hard-earned money in your pocket. If you want to protect your vehicle and your wallet, then calling on us for a remote starter is a great bet. We have more than two decades of experience in the business, and we know pretty much everything there is to know about remote starters. We'll help you to select the best car remote starter for your needs. 
Car Starter Options for Any Driver
At Soundmaster Tint & Alarm, we offer a variety of remote starter options with varying ranges, and we're ready to help you find the one that will suit your vehicle and your budget. If you're looking for remote car starters with additional features, such as keyless entry and vehicle security systems, we're ready to help. We offer free estimates for all of our remote starter installation services, so you don't have to worry about overpaying for your mobile electronics upgrade.
Get in touch with us today to speak to one of our technicians about how a remote car starter can increase your comfort and convenience when you're on the road! 
Remote Starter
Car Starter
Automatic Car Starters
Remote Start System
Remote Starters
Remote Start