Navigation Systems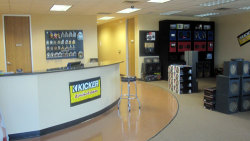 Are you tired of constantly getting lost when you're driving? Have you had it with trying to fumble with your phone to find directions to a new place? Fortunately, there's an easy answer to these frustrations. Car GPS can help you get where you're going without the stress and hassle of trying to figure it out on your own. If you're frustrated by getting lost or making wrong turns or tired of juggling directions and the steering wheel, then it's time to call Soundmaster Tint & Alarm for your in-dash navigation system. Serving San Antonio and the nearby area, we're your top source for mobile navigation systems. Call now to learn more about hassle-free driving with GPS devices installed by our experts! 
Today's navigation systems bring you a variety of great features that allow for stress-free driving. Whether you're looking for easy-to-follow route mapping or turn-by-turn directions with both visible and voice prompts, a navigation system from Soundmaster Tint & Alarm is all you need to get where you're going quickly and easily. When you turn to Soundmaster Tint & Alarm for a GPS navigation system, we'll help you to select a system that includes all of the features you need. We have 23 years of experience with mobile electronics to rely on, and we'll use our expertise to ensure that you get a truly superior car navigation system for your vehicle. 
Comprehensive Car GPS Options
If you're considering upgrading your car, truck, or SUV by adding a mobile navigation system, let Soundmaster Tint & Alarm help in San Antonio and beyond. Our car electronics specialists are ready to provide you with a full range of car GPS options, and we can help you find the one that's just right for your car and your budget. Whether you're looking for Garmin, Alpine, or other brand-name in-dash navigation systems, we're here to bring you a great selection of products from the leaders in navigation systems, including fully integrated CD/radio/GPS units. Bringing you the mobile navigation equipment you need and the top-quality mobile navigation installation you deserve, our team is ready to take your call. We offer free estimates and a lifetime warranty on labor, so come to us today and get the navigation system you deserve! 
And don't forget, Soundmaster Tint & Alarm is proud to offer custom installation. No matter what car GPS system you choose, our fully insured installers can make sure it looks great and performs at its peak! 
Car GPS
Mobile Navigation Systems
Car Navigation GPS
In Dash Navigation System