Mobile Video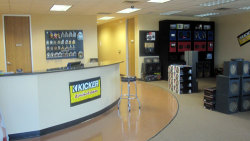 Are you looking for a fun distraction for the children who frequently travel in your car? Do you carpool with adult passengers who need more than just the radio for entertainment? Then a mobile video system might be the right choice for you. At Soundmaster Tint & Alarm, we provide a wide range of car DVD systems for you to choose from. Serving drivers in the San Antonio area, we're here to provide you with top-quality car video systems that will keep your passengers entertained for hours. Call Soundmaster Tint & Alarm today to discuss your car audio/video options with one of our technicians!
The mobile video pros at Soundmaster Tint & Alarm can offer you a wide range of products to enhance your vehicle's entertainment options, including:
Car DVD systems
Hands-free controls
Headrest DVD systems
Auxiliary inputs
Headphone connections
Video game add-ons
And so much more!
No matter what kind of in-car video options you're looking for, you can rest assured that our team is dedicated to meeting your needs. We'll sit down with you and help you to determine what your needs are, and then we'll get right to work installing your new mobile video package. Whether you simply want to add an overhead DVD player or you want to upgrade all of the car video systems in your vehicle, our fully insured technicians are up to the challenge. We can add car video systems to vehicles of any size, so don't hesitate to contact us when you need a mobile video solution. 
Affordable Mobile Video Systems
If you're looking to upgrade your vehicle by adding an in-dash DVD player or another type of in-car video system, odds are that you're also thinking about the price tag. Mobile electronics don't have to be expensive, and you shouldn't be overcharged for systems or labor. Fortunately, you don't have to worry about outrageous prices when you work with Soundmaster Tint & Alarm. We're a family-owned company, and that means we value affordable pricing for top-notch work. Whether you turn to us for in-car DVD player installation or help with video gaming system inputs, you can count on getting reasonable pricing and flawless results. Leave your need for an in-car DVD player to us, and you won't be disappointed.
Is it finally time to enhance your vehicle's entertainment potential? Pick up the phone today and discuss your options with one of our talented car audio/video technicians in San Antonio! 
Car DVD System
Car Video System