Car Audio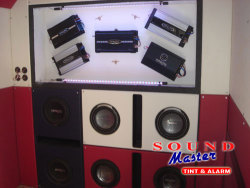 When you're in the market for a new car stereo, make the short drive to Soundmaster Tint & Alarm. We're San Antonio's source for speaker installation, iPod integration, and many other options in quality car audio. Since 1993, local motorists have counted on our car audio shop for competitive prices on the best brands and expert service in car audio installation. Now you can, too. Come and see us for a great selection of car audio electronics as well as a top team of car audio installers. We make it easy and affordable to sweeten up your sound!
Whatever it is you're looking for in a car stereo system, you're sure to find it at Soundmaster Tint & Alarm. We're pleased to offer products and installation for a wide variety of premium car stereo equipment, including:
Speakers
Amps
CD players
Satellite radio
Custom speaker boxes
And more! 
From trucks and vans to SUVs and cars, we have the car audio electronics you want and the installation expertise you can trust. In fact, we even specialize in marine audio systems, so you can enjoy the crisp, clear sound of a custom car audio array whether you're traveling in your vehicle or riding in your boat.
Custom Car Audio Service
You have your own taste in music, so why not listen to your favorite artists on a car stereo system built to fit your personal preferences? At Soundmaster Tint & Alarm, our installers are happy to help with your custom car audio needs in the San Antonio area. Whether you're going for pure sound clarity or heart-pounding bass, we can design and install the ideal car audio system for you. We have the amps, the speakers, and all the car stereo components you need to take your sound system from average to awesome. Stop in today to check out our large assortment of products and talk to our experienced car stereo installers. Hearing is believing when it comes to car audio systems, and our custom car audio systems can make a huge difference in your in-vehicle listening experience. Come see the difference our 23 years of experience can make.
Here's another reason to make us your car audio installer: You get a lifetime warranty on labor and a 30-day warranty on car audio equipment when you buy from Soundmaster Tint & Alarm. That's how confident we are in the quality of our products and services. We're also a fully insured car audio shop carrying all the leading brands of satellite radios and car audio accessories. Contact us now for a free estimate or any questions you have about our car stereo services.
Mobile Audio
Amplifiers
Car Stereo
Car Audio Installer
Motorcycle Lighting
Car Speakers
Head units
Mobile Electronics
Motorcycle Audio