Car Alarms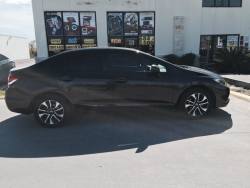 Are you worried about waking up one morning and finding your vehicle damaged by vandals or, even worse, not there at all? Fortunately, that's a worry you can put to rest when you turn to Soundmaster Tint & Alarm for car alarms. Serving drivers in San Antonio and the nearby area, we're here to provide you with top-notch alarm systems for cars. Protect your vehicle today from would-be burglars by calling on Soundmaster Tint & Alarm for car alarm system installation!
Unfortunately, locking your vehicle isn't enough these days to keep it from being stolen or vandalized. If you truly want to protect your car, then you need to go one step further and install a car alarm. At Soundmaster Tint & Alarm, we're here to provide you with expert car alarm installation that will protect your vehicle. The car alarm systems we have available can include a wide range of features, including:
Keyless entry
Remote starters
Ignition interruption
Dual shock sensors
Two-way remotes
Turning to our professionals for car alarms installation is the best way to ensure that your vehicle gets the protection it deserves. Our fully insured car alarm experts will make certain that your new system is installed flawlessly. We have over two decades of experience with car security systems, and we'll use our knowledge and expertise to ensure that you get top-quality results. With us, auto alarm installation is easy, affordable, and stress free.
Affordable Car Alarm Installation
If you're thinking about adding a car security alarm to your vehicle, odds are that you don't want to spend a great deal of money. Fortunately, you don't have to shell out big bucks to get the car alarms you need to protect your vehicle. When you choose to work with Soundmaster Tint & Alarm, you can look forward to getting a fair price on your vehicle security system. We're a family-owned company, and we'll do our level best to help you stay on budget and get the car alarm security system that will give you the peace of mind you deserve.
If you're ready to find out more about your options for car alarm systems in San Antonio, call Soundmaster Tint & Alarm today. Our car alarm installers will be happy to answer your questions and provide you with a free estimate for a new car alarm system!
Car Alarm Installer
Car Alarm System
Vehicle Security
Auto Alarm
Car Security System