Backup Cameras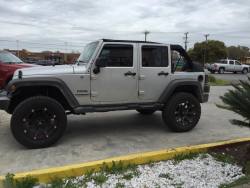 It's tough for even the most careful drivers to avoid accidents without a clear view of what's behind their vehicle. Although you can check and recheck your mirrors, that doesn't always give you a good look at what's behind your car or truck. If you want to do your best to avoid accidents, then you need a backup assistant, and that's where Soundmaster Tint & Alarm can help. We are proud to offer back up camera installation for drivers based in the San Antonio area and beyond. If you're interested in reducing your risk, get in touch with our team today to discuss your backup camera options!
Installing a backup camera system in your vehicle will help ensure that you don't cause property damage or personal injury when you're reversing. A back up camera can help you avoid colliding with:
Young children
Pets
Pedestrians
Other vehicles
Fire hydrants
Landscaping
And more!
When you turn to the pros at Soundmaster Tint & Alarm for assistance installing a rear view camera, you'll be doing yourself a huge favor. Driving is stressful enough as it is, and the last thing you want to worry about when you're behind the wheel is causing an accident. Our reversing camera options will make certain that you always have a clear vehicle of anything that's behind your vehicle. Protect your vehicle, your passengers, and others with a phone call to us for a backup assistant camera.
Backup Cameras for All Vehicles
At Soundmaster Tint & Alarm, we specialize in providing backup cameras for vehicles of all varieties. Whether you need a rear view camera system for your family sedan or parking sensors for your commercial van, you can rest assured that our fully insured technicians will be up to the challenge of installing your new rear view camera. We have 23 years of hands-on experience outfitting vehicles with safety and entertainment options, and that means you can trust us to install your reverse camera with ease. We'll work hard to make certain that your rear backup camera is installed accurately, so you can start using it the moment you drive away.
If you're ready to install a backup camera in your car, truck, or SUV, call or e-mail Soundmaster Tint & Alarm today. We'll be happy to discuss your car rear view camera options with you! 
car backup camera
license plate cameras
license plate camera
TM-4318A